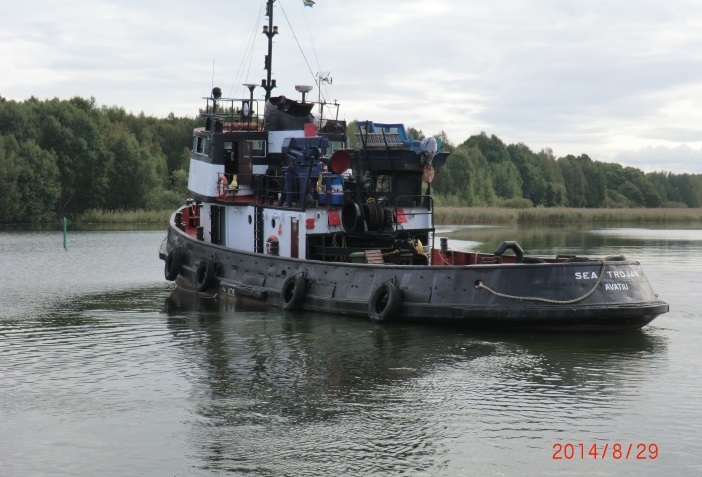 Our Exclusive tug. Located 5 minutes drive from our office
This tug was purchased by present owner in 2012 and will now be sold on best offer basis "as is where is"
2016 a bottom valve bust due to freezing temperature and the engine room was partly flooded. We have since had during summer engineer on board restoring equipment.
Main engine and port aux engine "rescued" and can be run for a short period only due to cooler damage.
Following need to be replaces and done:
1. Main engine fresh water cooler is frost-damaged.
2. Reduction gear oil cooler is frost-damaged.
3. Sea chest filter casing is damaged. It is removed, all piping disconnected.
4. Pending electrical problems: Restoration of ampere-meters and voltmeters.
5. Starboard auxiliary engine not yet restored.
The tug can stay at present mooring at least until Autumn 2018
Tug with towing wire on winch and bow-thruster
Sea Trojan
GT: 117
Built: 1962 in UK
Class: Not required by Flag state. Ex Lloyds Register 100 A1 Tug LMC (2014-10); Next DD 2018-04;
-During special survey by LR 2010 UK£ 53000, about €62000 was spent
-Intermediate surveys passed by LR April 2013 €25000 spent
Hull sandblasted and painted, all overboard valves overhauled, new zinc anodes, propeller polished,
propeller & rudder measurements taken
-Annuals by LR passed 2014-04
Flag: As not used, deleted from Cook Islands, ex UK (2012)
Dimensions in m: LOA 24.4 Beam 7.01 Draft Fwd: 2.4 Draft Aft: 3.3
Main engine: Mirrlees National FSM6 Engine No. 78280; 850 bhp; 634 kW; Reduction gear 3:1 modern gear drive
Propeller: Right handed 4-blade Bronze in Kort Nozzle
Consumption (abt): 2 mts/24h at cruising speed of 10 kn; 1,3 at 8 kn
Aux engines:
-UK-Gardner LV42 56 kW 1300 rpm with generator Scott 15 kW. Generator fully overhauled 2013-05
-UK Mermaid Melody II 65 kw 1500 rpm with generator Scott 15 kW (Not operational)
-Port generator Yanmar 230V/115V 50 Hz 5.9 kVA (new 2012/09)
Fire pump fully overhauled 2013-06
Bow thruster: 120 hp /89 kW
Deck / mooring winches: 2 – 10T & 6T heaving capacity (needs some work)
Tow hook: 50T SWL; Seebeck radial arm; Manual release power at full load 5 kg
Bollard pull: 14,5T
Winch 1: Broughton 5 6H/2 hydraulic single drum; Max pull 12 ton; 250m 26 mm 6×36 rhol galv swr
Winch 2: M Morris hydraulic single drum; 6 tons pull; 250m 26 mm 6×36 rhol galv swr
-These need some work
Deck crane: Grove 8-1,2 t
Work boat with 50 hp outboard motor
Fenders/tires both sides. "Push bow"
Cabins: 4 with; 2 x 1; 2 x 2 berths
Tank capacities in cbm: Fuel 20 Fw 7,5
Life-raft: RFD 12 persons
Bridge equipment:
Chart plotter Raymarine E120 with radar + extra monitor
Satellite compass Furuno SC-50
GPS Furuno GP-50 Mark 2
Auto pilot Furuno Navpilot
Echo sounder Furuno Color FCV-667/668
Navtex Furuno NX-300
AIS Simrad AI 50V
VHF Sailor RT2048
VHF Cobra Marine with DSC
Walkie talkie ICOM IC-M1EuroV 2x
Wind meter Plastmo
SART
EPIRB (new 2012/09)
Remote steering on cable
Loud Hailer /signal system Standard Horizon VLH-3000 New installed 2014-01
New TV in mess-room 2014-01