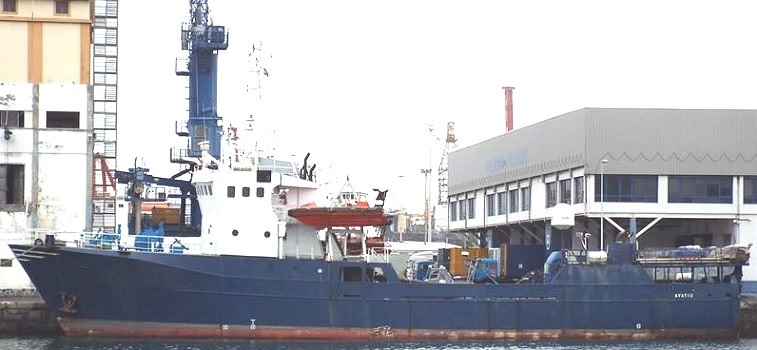 From our close clients, to whom we sold it 2012 and arranged flag and class.
Multipurpose Rescue/Guard /Stand-by vessel. Worked previously in offshore fields in Norway
Completely rebuild from fishing trawler 1984 in Norway. Converted to Standby/Rescue vessel with installation of dynamic positioning system Azimuth Aquamaster UL 501/3500 thruster and 2 x FRC's inclusive davits.
Modernized 2012: installation of additional fuel tanks, installation of fresh water maker, bilge water tank with relevant pump and pipes. Vessel's deadweight was increased, inclining test carried out and new stability booklet issued and approved by INSB.
Built: 1965 in Norway. Re-built and upgraded numerous times
Flag: Cook Islands, ex Norway
Class: International Naval Surveys Bureau (INSB) ex DNV 2012
Dry-dock is overdue since 2015, but we can assist with certification to a dry-dock in "your country"
ISM/ISPS/MLC certified
IMO No.: 6505662
Dimensions: 47,17 m / 41,18 m x 8,40 m x depth Mld 6,50 x depth 4,35 m
GT: 541 / 289 Dual Tonnage. Non-SOLAS Vessel!!
NT: 162
Main engine: 1 x Deutz MWM 1200 bhp, 375 rpm. Speed 12,0 knots. Economy 9kn/2ts MGO
Azimuth: 1 x Aquamaster UL 501/3500, driven by Caterpillar 3412, 600 kW
– The thruster is also approved as propulsion machinery
Aux. Engines: 1 x Volvo TMD 120 Stamford Generator supplying 140 KVA
1 x Caterpillar and Stamford Generator supplying 60 KVA 220/440 V AC
Aft thruster: 1 x Ulstein Stern Thruster 650 BHP driven by Caterpillar 3508
Speed / consumption (24h): 12/ 5,5 m3; 10 / 4,4 m3; Stand by by Azimuth 0,6 m3
Tank capacities: Diesel 111 m3; Potable water 36 m3
Deck equipment: 1 x Heila Deck crane HLR5-2S, Helicopter drop zone at aft deck
Deck cargo: 50 m/t
Fi-Fi:  Height 47 m, length 170 m
Mooring system: 4 points from 1976; Forward winches Gilson/Brattvaag SB 20225 Type MA8/79 135
Port S: Gilson/Brattvaag No 20254 Type MA8/79 154, year 1976 354.
Winch aft: Trawl winches Type 2 D1A8U; wire thickness 20 mm; 200 m length, weight 1000 kg.
Rescue equipment:
-2 x FRC rescue boat
-Rescue net
-2 x life rafts
-Towing hook for emergency towing
-Hospital for treatment of survivors
Navigation equipment:
-Radar Decca Bridgemaster 3 cm ARPA
-Radar Furuno FR-2115 3 cm ARPA
-Gyro compass Anschutz AD-100
-Autopilot Anschutz AP9 MK3
-Satellite Compass Furuno
-Satellite Navigator GP-35
-Satellite navigator GP-150
-Direction finder model FD-525
-Navtex Westronic NCR-333
-AIS Furuno FA-100
Communication equipment GMDSS Sailor for areas A1 and A2
-VHF/DSC Furuno FM-8500
-VHF/DSC (duplex) Sailor RT5022
-MF/HF DSC Furuno FS-2571C
-VHF Walkie-Talkie 3 x Sailor SP3520
-Inmarsat C Furuno Felcom 15
-Satellite telephone system mini "M"
-FBB 150 E-mail and Data system
-EPIRB Sailor Se406-II
-SART ACR Pathfinder 3
-SSAS Furuno Felcom 15
-LRIT Furuno Felcom 15
-Intercom
Cabins: 14 with 33 beds
Survivor space: 185